TrueSharp TrueCut Rotary Blade Sharpener 2 Electric Reusable New Quilting Sewing
Out of stock
Description
TrueSharp TrueCut Rotary Blade Sharpener 2 Electric Reusable New Quilting Sewing
TrueSharp TrueCut Rotary Blade Shapener
Tired of throwing money away by constantly buying rotary blades for your cutter?
Sick of using it a couple of times and it is dull already?
Well we have the system for you, AND it doesn't matter what sized blade you use
28mm, 45mm or 60mm it does them all!
Sharpen Your Blades With the Push Of A Button
 
The high-power motor in the TrueSharp makes fast work of sharpening your rotary cutter blades. Just put in a blade, close the lid, and push the button! It's that simple!
Sharpens 3 Blade Sizes
We know you have many cutters at home, maybe even in different sizes. The TrueSharp will sharpen most brands of blades in 28mm, 45mm, or 60mm.
High Quality Sharpening Stones
The secret to the success of the TrueSharp is its use of high-quality sharpening stones. The same tools and methods that have been used to sharpen blades for centuries have now been adapted for sharpening your rotary blades!
Sharpens Both Sides Of The Blade At Once
The TrueSharp conveniently has two sharpening stones, one on top and the other on the bottom. This helps take the guesswork out of the sharpening process and saves you time.
Extra Set Of Coarse Stones To Remove Nicks And Flat Spots
What about extra dull blades, or blades with nicks and flat spots? Fix them up with the included coarse-grit stones! After these take out the nick or flat spot, put the fine-grit stones back in the sharpener to get your blade smooth and extra sharp.
All-Inclusive Sharpening Kit
Everything you could need for the best blade sharpening experience is included with the TrueSharp sharpening kit.
TrueSharp Sharpener
Power cord
Fine and coarse-grit stones
5ml. Bottle of blade sharpening oil
Blade handler
Cleaning cloth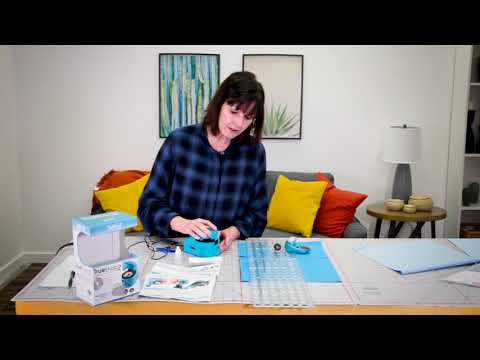 How to use the TrueSharp2 Rotary Blade Sharpener – YouTube
Video will open in a new window
Using the eBay App? Paste link into a browser window:
[isdntekvideo]
.ytvideo * { box-sizing:border-box; } .ytvideo { margin:.5em auto 40px auto; max-width:480px; font-family:arial; text-align:center; position:relative; min-height:120px; background-color:#555; } .ytvideo p { position:absolute; margin:0; color:white; background-color:rgba(0,0,0,.5); } .ytvideo .yt_hd { font-size:16px; width:100%; height:28px; line-height:28px; text-align:left; top:0; left:0; padding-left:10px; overflow:hidden; } .ytvideo .yt_ft { font-size:12px; width:100%; bottom:0; left:0; } .ytvideo img { display:block; max-width:100%; border:0; } .ytvideo a:after { content:"A025BA"; position:absolute; width:60px; height:50px; left:0; top:0; right:0; bottom:0; margin:auto; border:0; border-radius:10px; color:white; background:rgba(0,0,0,.6); font-size:24px; line-height:50px; cursor:pointer; } .ytvideo a:hover:after { background:#CC181E; } .ytvideo .yt_inp { position:absolute; top:100%; left:0; width:100%; text-align:center; padding:.5em .2em; xfont-size:18px; border:0; color:white; background: rgba(0,0,0,.7); } @media(max-device-width:960px){ .ytvideo { margin-bottom:60px; } .ytvideo .yt_inp { padding:1em .2em; } }
Additional information
| | |
| --- | --- |
| Somethingscountry Quilting Fabric | Scissors & Cutters, Tools & Gadgets |